Huge Thank You to Plant World Nursery for allowing us to take over their parking lot with The Twelish Vegas FoodTrucks!
Congratulations to @TastyBunz for collecting the most cans for @ThreeSquareLV and taking the title of "Las Vegas' Favorite FoodTruck" if you haven't got your hands on their BunZ yet your missing out!
So let me tell you why I'm so in love with the mobile eateries  here in Vegas! It's the wonderful people who run them and their passion about their delicious unique food.
If you asked me which Gourmet Food Truck is my favorite I couldn't tell you, I love @BBQBoyLV 's outgoing, friendly, inviting personality not to mention the wonderful aroma coming from his truck!
@SnOwONOShaveIce is a great testimonial for me and the power of social media in building relationships. I met Marianne via Twitter, and then Facebook, before we even met in person she had hired my daughter who has been looking for a job for a year now. We had a phone conversation regarding her being a part of #4sqdayvegas. But that story will be part of another blog post. All I know is @SnOwONOShaveice is it for Shaved Ice Hawaiian Style in Vegas! Must Try Rosewater…
@Sloppijos was my first Foodtruck experience I was raised on Hatch New Mexico Green Chiles, my favorite items on her menu are fried mac-n-cheese w/ pulled pork in the middle with green and red chilli sauce, her Sloppi Jo is pulled pork with a fried egg on top, carmelized onions and a tortilla, I will stop because I pretty much love her whole menu..
@Topnotchbbq my favorite things are the Cincinnati Chilli Cheese Fries, and their BBQ'd baked beans with sliced hot links, and, and, and….. Let's just say when James says he is Smokin In The Vegas Desert it ain't no joke…
@Lulusonthemove I tried their Dirty Chips yummmm pulled pork, black beans, Chris and Chris are going to have to help me out with the white topping that has jalapenos, they are a definitely going to be a Tasty force to be wreckoned with on the Vegas Streets.
@Curbsidecafelv I really need to eat one of his hamburgers! I am in love with the Calamari Tacos a must try for sea food lovers.
@GrouchyJohns took care of my caffeine addiction all day with frappe's, iced coffee, and a must try honey latte.  Keep up the fight against the evils of bad coffee boys!
I can't do justice to all the participants of  #4sqdayvegas  in a recap blog post and I'm very interested in their stories of why and how they choose to start a truck, so stay tuned…  But watch our recap video for now, then go follow them on Twitter and Facebook let them engage your tastebuds!    The Las Vegas Tweetup looks  forward to supporting these business owners with future tweetups.
Huge thank you to volunteer photogs, @Shewchuk, and @BrianSteffy for capturing the event for us.  @SavorandSip for coming out and supporting us and helping with the food drive for @ThreeSquarelv!
Last but not least, my Bomb Event Planner @TrinalJohnson who takes care of all the stuff I hate to do (permits, dotting my i's and crossing my t's) allowing me to be social!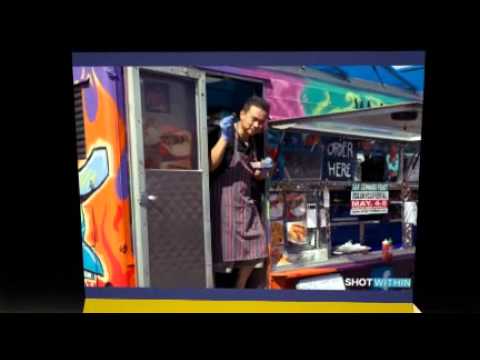 @TopNotchBBQ – http://topnotchbarbeque.com
@SloppiJos – http://sloppijos.com
@TastyBunz – http://Tastybunz.com
@SnOwONOShaveIce – http://snowonoshaveice.com (My Princess is taking orders on this #Onolicious Truck)
@IslandBreezeLV – http://IslandBreezeLV.com/
@CheeSteakTruck / @ItalianIcetruck – http://phillysfamousitalianice…
@GrouchyJohns – http://grouchyjohns.com
@CurbsideCafeLV – http://www.CurbsideCafeLV.com
@FoodSlingers – http://FoodSlingers.com
@bbqboylv – http://www.bbqboylv.com
@LBSPattyWagon – http://www.lbspattywagon.com
@Lulusonthemove – http://lulusonthemove.com
@Dianegourmet2go – http://gourmet2go.org/
@CareFreeLV