@Mashable Set our Bright Light City On Fire with their 4th annual #MashableAwards! I got to attend via a press pass from @Mashable and the @Zappos team adopted me for the evening, thank you @Migpascual and @ZapposInsights.
The night started when they opened the doors we where greeted with a photographer who took mine and @Migpascual 's photo we fell behind the rest of the group for a moment. Then there was an open bar and yummy fried Macaroni cheese balls with a spicy cheese to dip into that danced on our taste buds.
We where entertained by the DJ set from Eclectic Method, with videos bites and edits from The Sound of Music Do Re Me, to Dee Lite's Groove is in the Heart and appearances from the Simpsons.
My throat is sore from screaming… @Baratunde was a great host for the evening he entertained us all night long. Pete Cashmore of Mashable is so Adorkable (I so stoled @kristlinas 's word adorkable) no other man could miss a step down and still be so Adorkable.
Here is one of the laughable quotes from @Baratunde "Apple is dreaming of new ways to take your money."
There was only one disappointment of the evening, and that was that @Twitter was not there to accept their award for "Break Through Website Design." The crowd proceeded to shout out @FailWhale…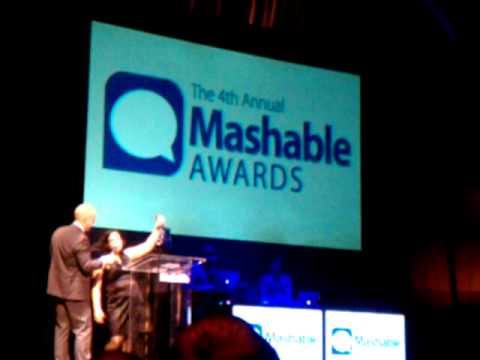 @Foursquare won for the Best Location Based Service! "Foursquare, the mobile location-based service, had a year of tremendous growth that paved the way for other location-based services, including Facebook Places." – @Mashable
Congratulations @Hootsuite for Best Social Media Management Tool. Angry Birds received the award for "Best Mobile Game" and the Gentlemen in front of me caught one of the flying angry birds that flew into the audience.
Now on to Android! I am an Android and love my #EVO yet I hate the battery! It died shortly after I took this video.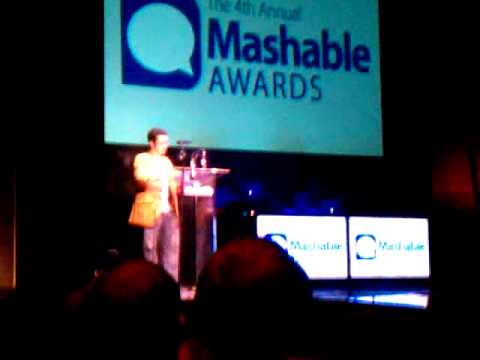 Here is a fun pic of @Shewchuck with Antoine Dodson after the #MashableAwards. Run and tell that! Photo by @gmwdesign, thanks for sharing the photo @gmwdesign. Here is the headline: Bed Intruder in the Mood for Jamaican Rub
@Cirque 's performance "Zumanity" words won't describe the performance, this is a visual: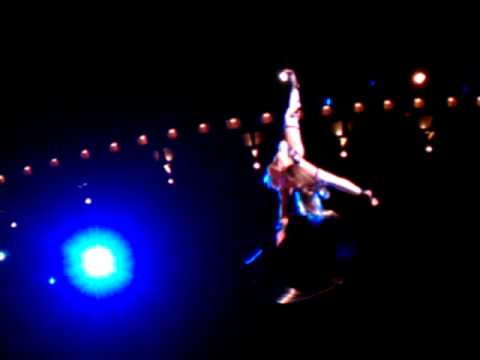 Thank you again @Mashable for the gift!